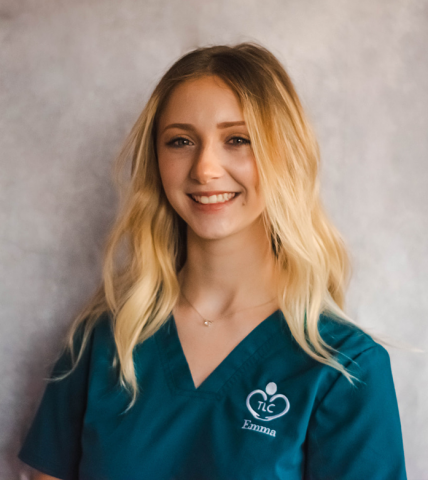 My name is Emma Russell and I am a behavior technician here at TLC! After high school I spent a year at Macomb Community College studying early childhood development and psychology. I grew up in a large family of 12, so growing up, I always knew I wanted to work with kids. I spent a summer volunteering here at TLC and instantly knew this was the place I wanted to be. My favorite part about working at TLC is how it feels like a big family, and getting to spend so much time with some awesome kiddos! Growing up in such a large family, with many younger siblings, has made me very passionate about helping kids to grow and be successful in life.

In my free time, I love traveling and dancing in a German American Cultural group, as well as ballroom dance. I also love spending time with my family, and serving in my church.

I began aspiring to be a behavior technician when I realized that my main priority is to work with and help children. When I first started college, I knew I wanted to pursue a Psychology degree, but also had a love for education. When I learned about the field of ABA, I knew it was the perfect opportunity for me and would give me the chance to work one-on-one with our special-needs kiddos. It's also great to work with an extremely helpful and friendly staff. My favorite part of working at TLC is getting to know each child and seeing his/her incredible progress from week to week!