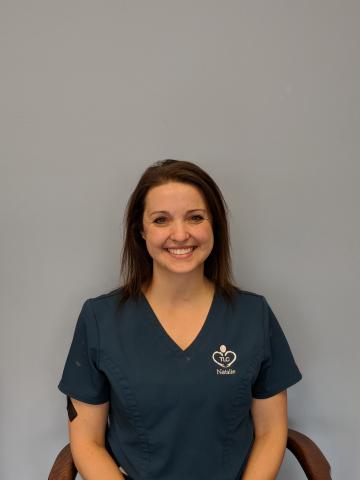 My name is Natalie Green. I am a very active person, I play soccer on an adult league and I am constantly going at work or in home. I have two amazing boys, 3 (Preston) and 8 (Breydan), who are full of energy and love! I am an assistant coach for my older sons baseball league and very much active in my children's lives and hobbies.

I obtained my masters in occupational therapy in 2012. I graduated with honors from Baker College Center for Graduate Studies. I worked at St. Joseph Mercy Oakland in Pontiac for two years. I worked with premature infants all the way to adults as young as 108 (yes, I actually treated someone who was 108)!! It was an amazing experience to understand and treat severe acute conditions and traumas to expand my knowledge on more difficult patient cases. I was then able to find a pediatric occupational therapist job, which has always been my passion, in Howell. I worked there for 3 years and then found The Center for TLC. I have been here since January of this year and it has been an amazing opportunity to get to know all of your children!! I couldn't imagine my days without all of the kids I treat from a day to day basis.

I enjoy filling children's lives with joy and passion. I love how I am able to assist this kids and increase their independence for their futures. I have always had a passion for pediatrics and was so lucky to be able to find occupational therapy to fulfill those desires. I want the world to understand and see how amazing all these children are. All of the children I treat, are so incredably smart and sweet. The innocence in all of them is what drives me from day to day. If we could bottle up that happiness and share it to the world, we all would be in a much happier state!

With that being said, I thank all you all of the parent to entrust their children with all of the staff and me. It is truly all of our missions to make the children's lives so much better through OT, PT, SLP, and ABA!!