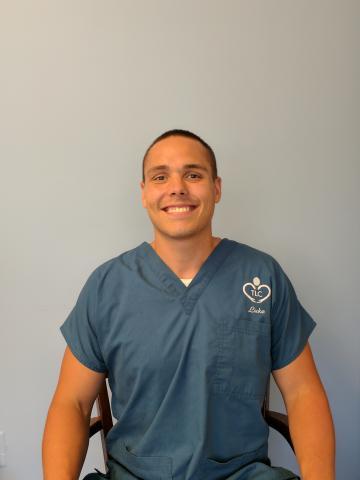 My name is Luke Nelson and I am an OTR at TLC. I love to laugh, smile and am energetic at heart, and have always had a passion working with the pediatric population. This started at a young age where I worked at a summer amusement park operating the go kart track and water slide, then worked at the YMCA helping in summer camp and after school programs. I am blessed to have found The Center for TLC where I can be energetic and implement therapeutic activities in the form of play. I enjoy the challenge of adapting therapeutic activities in the form of play to engage each child and their client centered goals.

In my free time I love playing basketball (at my church or at the park), watching sports on tv with friends, and working out. I had the wonderful opportunity to travel to Ecuador and complete an internship during school. It was amazing to experience another culture and context from what I am used to seeing. I graduated from Saginaw Valley State University's Occupational Therapy program. The opportunity to go to work everyday and have a positive impact on the life of a child, helping increase their independence with play, social participation, education, and activities of daily living makes this more than a job, but rather a passion!

My dream one day is to start my own family and raise my children in a beautiful, Christ-centered home patterned after my own upbringing.