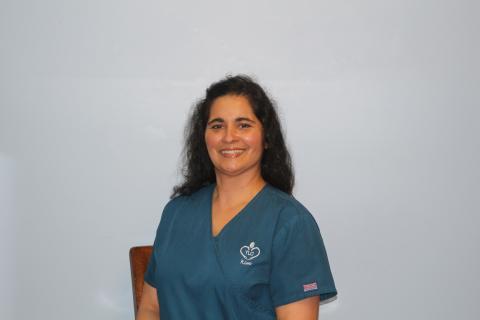 I am a fabric crafter and a foodie. I have been known to visit fabric stores while on vacation. It is so fun to tell people about the town where I purchased a piece of fabric to create my latest craft. I also enjoy discovering grocery stores when I am out of town. I love the sights and conversations of food stores. When I notice someone selecting a food I have never eaten I don't hesitate to ask then about it and how to cook it. I also think you can learn so much about a community based on the style of store and the type of food they offer.

My craft obsession of late is to create aprons using re-purposed clothing items. I currently have seven and every female in my family has at least one! It seems like the perfect craft to pull together my hobby passions.

I am a mother of two children one girl and one boy with autism. I am remarried to a man with 4 kids and 5 grandchildren.
I currently work part time as a massage therapist at TLC. I have been here for 4 years and just love the work I do with the children. It does not feel like work to spend time with the clients I refer to as "my kids".

I am a graduate of Michigan State University with a BA in Hotel and Restaurant Management. I received an Associates degree in Applied Science from Oakland Community College with a certificate in massage therapy. I also have a certificate in Reflexology.

Dream 1: I dream of coaching parents through the journey of raising a child on the spectrum using a multidisciplinary approach.

Dream 2: Renting a home in the mountains of Tennessee big enough for our family (now up to 16) to gather for Christmas.